Last week was spring break here for the students of Oakland Public Schools.  Although my wife, Allison and I don't have kids yet, we decided to claim this spring break as our own and take the whole week off.  As self-employed folks, it is crucial that we do this.  The freedom of loving what you do combined with the pressure of no regular paycheck can be a killer combination leading to months and months of non-stop work without taking a real break.  Suddenly a year goes by and you're like, "Damn, why am I so tired?"  Allison and I have learned this lesson the hard way and now make sure to take as many breaks as possible.  Since our business has a seasonal rhythm that coincides with the school year calendar, it made sense for us to have a spring break.  And since we already had a lot of small trips outta town in our 2014 calendar, we knew that the perfect way to really relax this spring break was to stay put.  Staycation…here we come!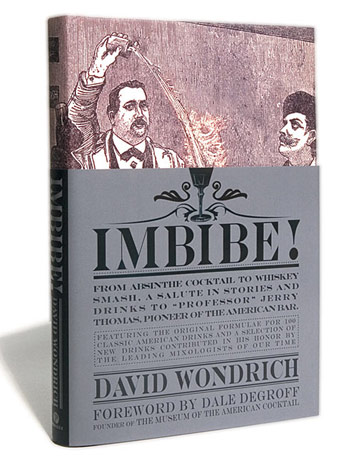 The goal of our week-long staycation was to do as much (or as little) as possible as close to home as possible.  We had an amazing week.  Allison spent much of her time on the home-related hobbies that bring her the most joy – baking, gardening, simply sitting out in our backyard listening to the sound of the fountain (we call this area of our home "paradise").  And I spent much of my time engaging in my hobby…yep, drinks and drink culture.  I started reading Imbibe by David Wondrich, a book I had been meaning to pick up for years.  I dragged Allison on a tour of St. George Spirits in Alameda (which she loved).  I drank a bunch (but not too much).
Most importantly, I had the time to stop and notice and reflect and learn.  And not just about drinking.  I spent a lot of time this week doing my internal work.  Thinking about my professional and personal goals.  Noticing where I am on track and where I am not.  I looked at where I wanted to make changes in my life and laid the foundation for making those changes.  This is, after all, why we take breaks – to hit our refresh buttons; to take that much needed pause so that we can go back into our "real lives" stronger and clearer in our intentions.
I won't get into all of that internal work though.  That's for a whole other post.  A whole other blog, perhaps.  Instead, let me share what I learned about drinking.
Hangovers are fine…if you don't have to work.  Okay.  I will admit that maybe I drank a little too much once (or twice) during the staycation.  But, who cares.  I didn't have it work.  When I was feeling hungover, I could just have some Pepto Bismol, stay on the couch and watch Scandal.  I didn't have to go anywhere or do anything.  It's like the ultimate adult sick day.
Don't underestimate that restaurant in the strip mall.  You might find the best manhattan cocktail you ever had.  Allison and I asked our guide at the St. George distillery for a restaurant recommendation after our tour.  She suggested we try a new place called Trabocco "right near the Trader Joe's in the South Shore Shopping Center."  To be honest, we weren't expecting much.  An Italian restaurant in a shopping mall?  But she said that folks were raving about it, and better yet, their cocktail menu features the collection of St. George spirits (which we loved) – so we went and it did not disappoint.  We adored the food (the oxtail ravioli…yum!) and the service was excellent.  Their manhattan is made with St George's B&E Bourbon and Carpano Antica and was somehow the best manhattan I have had…and I have had a lot.
Drunken karaoke may be one of the best ways to make friends.   Another local place that rocked our world was Nick's Bar in Berkeley.  On the outside, it's just a dive bar.  It's literally a 5 minute walk from our house and we had never been there.  Just walked right by.  But, I heard it had karaoke and we love karaoke.  So, we go in and well, it's a dive bar on the inside too.  But, a dive bar with a great collection of spirits (another place where St George is featured…perhaps you are sensing a theme) and some of the coolest, most laid back neighborhood folks you can meet.  We loved it!  We drank and sang and made friends with everyone in the place.  Allison even came home with a phone number!  Not like that, though…c'mon.
Vodka can taste good.  The St George tasting surprised the hell out of us because our favorite spirit wound up being the Hangar One Kaffir Lime Vodka.  I am a passionate whiskey drinker and Allison will knock you down for a gin cocktail.  Both of us tend to be in the "vodka sucks" camp.  But not this vodka.  It completely changed my mind about what vodka could be.  In fact, it's the only bottle we walked away with that day.  Shocking.
The best place to drink vodka is on the beach.  The final day of our staycation was Easter Sunday where we had a family picnic on the beach down in Aptos, CA.  It was the perfect day for the beach – beautiful sunny day, not too hot.  My sister-in-law didn't love the beach we chose (it was too crowded for her taste) and my brother grumbled a bit about all the hassle that it takes to get to and spend a whole day at the beach with a bunch of kids (I get it).  But in the end, we all admitted that it was a ridiculously fun way to spend an Easter.And the drink that contributed to our fun was something that I called the "Boozy Sprite."

In a plastic pitcher with a lid, add:
10 oz Hangar One Kaffir Lime Vodka
4 oz fresh lemon juice
4 oz simple syrup (I infused mine with lemon peel and ginger)
a bunch of ice

Put the lid on and shake vigorously.  Strain out into another container.  I actually strained mine into 2 of those bottles you get with your Soda Stream.  Half the mixture in each bottle.  Then, I topped each bottle off with soda water and put them in the freezer for about 45 minutes to chill it.  Took them out and put em in my cooler with an ice pack and they were still cold when I got to the beach 2 hours later.  If anyone had brought an ice chest (no one did), I would have served the drinks over ice too.  It made about 8 drinks.